Easiest Check-In Ever!
Use Your Own Devices
Works on iPad, iPhone and iPod Touch.
Additional devices can be rented if necessary.
No Internet Required
Your devices connect to our Offline Wireless Network, eliminating the need for internet at your venue.
Pricing that Fits
75¢ per registrant, $200 minimum,
added to your invoice after your event.
See It In Action!
Live Attendance allows you to be mobile and assist more people in less time.
Your staff and volunteers will have fun marking attendance!
What People Are Saying
"WE LOVED IT!!! Live Attendance was so simple and easily handled the registration at our event of over 800 guests."
Gretchen Miller
Rachel House Pregnancy Resource Center, Missouri
"Much easier than scanning name tags. Worked great. Easiest check-in ever."
Lynne Sevinsky
Care Net PRCS, Virginia
"It was so easy to move people around and fill in for last minute cancels. This may be the first time that we got a fully accurate account of attendance."
Ryan Wiggins
Young Life Singapore
"Guests could be quickly greeted and seated, allowing for a more personal, friendly welcome to the dinner."
Anne-Marie Von Kahle
Fairfax Young Life, Virginia
"Very smooth! Even with the changes and cancellations that happened at the last minute we were able to adjust to the needs of our event."
Katherine Goodwin
Pregnancy Care Center of the North Coast, California
"We loved using Live Attendance. We didn't have any bottlenecks with the crowd checking in. Moving guests and registering new ones was quick and efficient."
Juanita Munday
HeartReach Center, Alaska
Blazing Fast Check-In
The Guest Check-in mode enables you to look-up guests and mark their attendance with lightning speed. You can check-in guests individually, or by Table Host. You can even record last minute cancellations, opening up their seats for walk-ins or unassigned guests.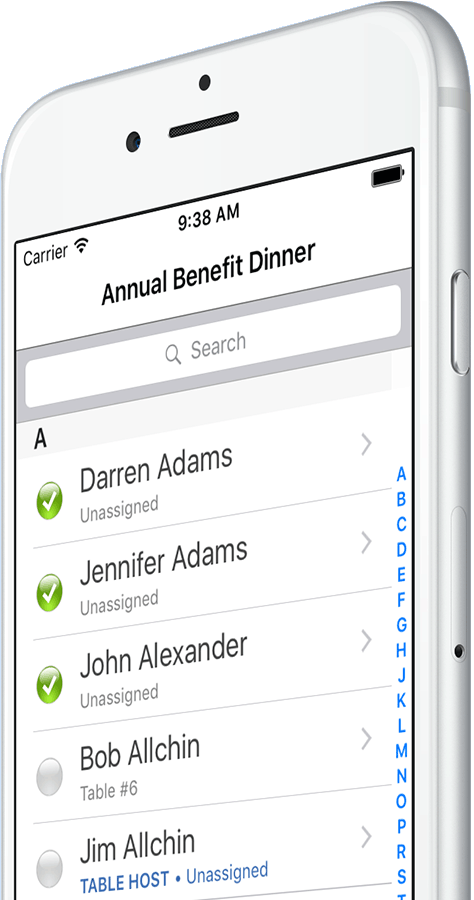 Assign Seats Instantly
Every event has situations where last minute changes happen and guests need to change their seating assignment. Live Attendance highlights open seats in real-time so that you can make last-minute changes and assign seats during the check in process.
Register Walk-Ins
When unexpected guests arrive, the Guest Manager mode has a fast and efficient way of letting you register them. This ensures that you capture valuable information to stay connected with all attendees after the event.
Move Guests
Since open seats are shown with yellow, it's easy to make last minute changes and move individuals or whole parties around to different tables.
Post-Event Analytics
After your event is finished, you'll have all the info you need to know such as who attended, who didn't show, who walked-in unexpected, and more. You'll have the ability to stay connected with all registrants and export key information to an Excel document for future use.